When it has to be Special…
With thousands of unique framing options to select from, our experts will help you create a custom-designed piece that is sure to stand out!
Looking for that unique item? From handmade jewelry and spiritual gifts to fair trade gift items to custom framing, Casual Cat has the perfect gift for that special someone.
There's always something happening at Casual Cat. Be sure to follow us on Facebook for the most recent events and happenings!
The Casual Cat has been Proudly Serving Southern New Hampshire since 1987!
We are committed to providing only the finest quality Custom Picture Framing and unique hand crafted gifts, backed by service that is friendly and prompt. Because all our customers are important to us, our professional staff is dedicated to making your experience a special one. That is why we always go the extra mile to make sure we have the current trends in Custom Picture Framing and a large selection of gifts for any occasion and of course complimentary gift wrapping on all purchases. We will make sure your experience at The Casual Cat is just Purrrfect!
Whether you need a thoughtful gift or a show stopping framing design, here at The Casual Cat you will be delighted with the exceptional expertise and customer service that allows us to stand out from everyone else. The Casual Cat is located in beautiful Amherst, New Hampshire and is only minutes away from Nashua, Manchester, Bedford, Merrimack, Hollis and other surrounding towns in the Souhegan Valley.
When it has to be Special…..Casual Cat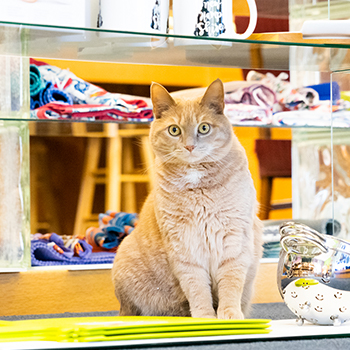 New Casual Cat Gift Registry
Register with Us for Your Happiest Moments
True custom framing and more with personalized service. The staff here is warm and friendly and cares about customer satisfaction. They made certain my experience was as positive as possible and did their best to make me happy. Free wrapping is a bonus. Be aware custom framing can get pricey when adding details but getting exactly what you want is well worth it.
I found this store while looking to get a print framed and was amazed at the selection of frames available. The final product was excellent and the piece looks fantastic in my living room. They also have a great selection of crafts and gifts. The staff is super friendly and the two cats who live there are just the right touch of hominess.
Top of the line. Would go nowhere else. The quality and service is outstanding. Been a customer for over 20 years.