In 1987, Cindy Started a Small Framing Operation
Framing is our passion. For over thirty-five years, we've shared that passion with those around us. At Casual Cat, you'll find thousands of sophisticated, unique, colorful, and gorgeous framing options perfect for any décor or style. While the unsurpassed selection is pretty fantastic, your experience is even more so.
As lifelong artists, Cindy and Lisa have created an environment where everyone is family. Instead of the commercialized framing experience, our customers receive one-on-one attention, ensuring your every expectation is surpassed. We take the time to get to know you, your vision and provide various options while educating you along the way. We make sure you understand why we do what we do, so you leave feeling confident that your irreplaceable picture, item, or piece of art is in the very best hands.
If that's not enough, unlike other companies, we keep your work in-house. All custom framing is crafted on-site at Casual Cat – and, right out in the open so you can see the magic happen!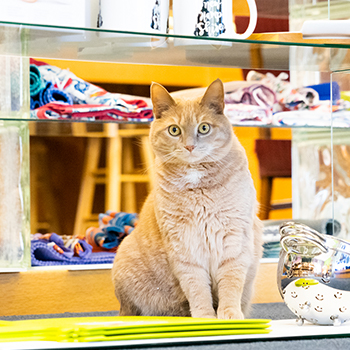 But It's Not Just About Us…
While our team is beyond excited to offer our customers a welcoming experience, Romeo and Tibby sometimes beat us to it. If they don't greet you at the door, be on the lookout for our two feline residents. Adopted in 2015 from Kitty Angels, these two brothers are Casual Cat residents and know how to charm their guests! Sometimes we think our visitors are here just to see them. It's okay, we understand.
Doing Good Things is What We're All About
We believe in doing good things, which is why our small business has partnered with Fair Trade vendors from around the world. From handmade table linens to intricately woven baskets, one-of-a-kind bags, and exquisite jewelry – we are always on the lookout for ways to give back. Purchasing Fair Trade Certified products is a way to make a conscious choice for a better world.
When you support and purchase Fair Trade, you can have confidence that you are doing good too. These products give money to underpaid women providing sustainable livelihoods, safe working conditions, food for their families, and in some instances, the ability to provide their children an education.
Supporting Local Businesses
Here, you will also find a myriad of constantly changing merchandise from some of the finest, most hardworking local businesses in the region. Our signature boxes and gift wrap come from a family-owned company in Peterborough. We have pottery from Vermont and New Hampshire as well as wooden puzzles from Massachusetts. There is never a shortage of local wonders in our store. We make a very conscious decision to buy our products from other small businesses to help support communities near and far.

Whether you're looking for custom framing at an affordable price or a unique gift that you can feel good about buying, you can be confident that you'll find it here at Casual Cat. Be sure to follow us on Facebook for the most recent store happenings! We promise you won't want to miss what's going on here!